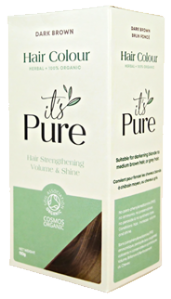 It's Pure Henna Hair Dye
It's Pure Henna is an award-winning range of 100% natural henna hair colour which is the only hair dye certified as 100% organic by The Soil Association.
It's naturally free from PPD, ammonia and peroxide, so It's Pure Organics hair dye is an excellent choice for those who have experienced an allergic reaction to synthetic hair dyes. Enriched with ayurvedic herbs, It's Pure Henna will leave your hair in fabulous condition.
All henna hair dyes work with your hair's natural colour, so whilst results will vary, the end results will be uniquely yours. For tips on how the different henna colour shades should work with different hair colours, click 'how will this look'. To get an even better idea, why not order one or two tester pots so you can strand test?